Creamy Chicken and biscuits.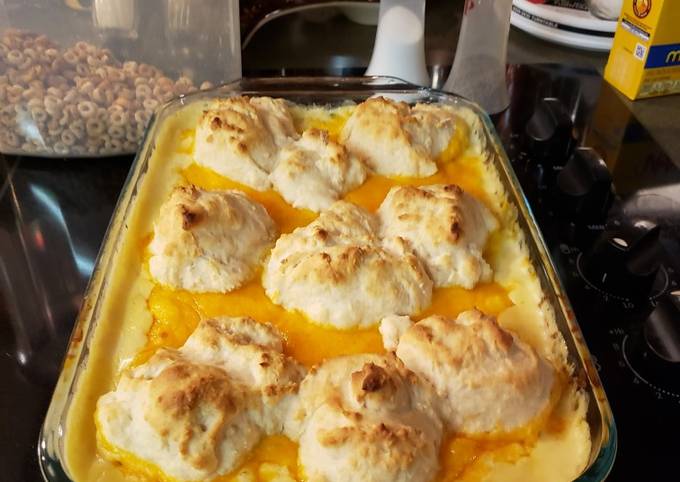 You can have Creamy Chicken and biscuits using 12 ingredients and 8 steps. Here is how you achieve that.
Ingredients of Creamy Chicken and biscuits
It's 1 1/2-2 lbs of Chicken (I cooked 3 for the picture).
You need 1 (10 oz) of can of Cream of Chicken.
Prepare 1 (10 oz) of can of Cream of Celery.
Prepare 8 oz of Sour Cream.
It's 1 (10 oz) of can of milk 🥛.
It's 2 cups of Shredded Sharp Cheddar Cheese.
It's 1 teaspoon of Celery Salt.
Prepare 1/2 tsp of Salt and Pepper.
You need of Frozen Peas and Carrots.
Prepare of Biscuits.
Prepare 2 1/2 of Bisque.
It's 2/3 cup of milk 🥛.
Creamy Chicken and biscuits instructions
Boil chicken until cooked all the way through. Remove from heat and let cool..
Combine Soups, Sour Cream, Milk, and Frozen Peas and Carrots in a medium saucepan and allow to heat up..
Shredd chicken and add to the soup mixture..
Pour mixture into a casserole dish..
Add Shredded Cheese..
Mix biscuit dough..
Drop onto chicken and soup mixture..
Bake at 375° for about 45 minutes. Some ovens run hot, some not so much. Check on it at the 30 minute mark..
For Granma, I Love Cooking for Granma Recipes.