Sticky Fullblood Wagyu Beef Honey-Ginger Stir Fry.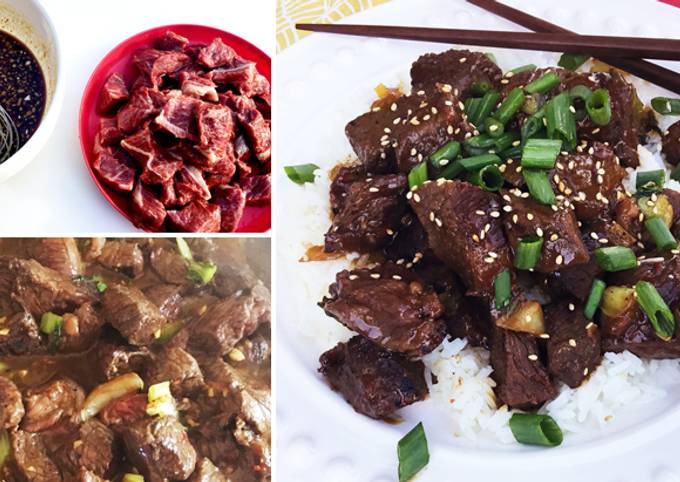 You can cook Sticky Fullblood Wagyu Beef Honey-Ginger Stir Fry using 18 ingredients and 6 steps. Here is how you achieve it.
Ingredients of Sticky Fullblood Wagyu Beef Honey-Ginger Stir Fry
Prepare 2 PACKAGE of Double 8 Cattle Company Fullblood Wagyu Beef for Fajitas.
You need of Kosher Salt & Freshly Ground Black Pepper (to season).
Prepare 3 TBSP of Sesame Oil (divided).
You need 2 HEAD of Baby Bok Choy (cut horizontally into 1/2 inch slices – cut until 1 inch from the core and then discard the core).
You need 1/4 CUP of Water.
It's 2 TBSP of Cornstarch.
You need 1 PACKAGE of Rice (prepared according to package instructions).
It's of Sauce.
You need 2/3 CUP of Soy Sauce.
Prepare 3 TBSP of Worcestershire Sauce.
Prepare 2 TBSP of Sweet Chili Sauce.
It's 1 TBSP of Ginger (minced fine).
You need 1 TBSP of Hot Chinese Mustard.
You need 1 TBSP of Garlic (minced fine).
Prepare 1/2 CUP of Honey.
You need of Garnish.
Prepare 1 BUNCH of Green Onions (green parts only, chopped).
It's 3 TBSP of Toasted Sesame Seeds.
Sticky Fullblood Wagyu Beef Honey-Ginger Stir Fry instructions
PREPARING THE FULLBLOOD WAGYU BEEF If the pieces of Fullblood Wagyu beef for fajitas are larger then 2 inches, cut them against the grain into thinner strips.Season the beef with kosher salt and freshly ground black pepper..
PREPARING THE SAUCE In a medium bowl, whisk together the soy sauce, Worcestershire sauce, minced ginger, hot Chinese mustard, sweet chili sauce, minced garlic, and honey. Whisk to combine, and set the sauce aside..
PREPARING THE RICE Prepare the rice according to the package instructions.
PREPARING THE STIR FRY Heat a large cast iron skillet on medium-high heat. Add in half of the sesame oil. Once the oil starts to shimmer, add the seasoned Fullblood Wagyu beef for fajitas/stir fry in one layer. Let the beef brown for 1-2 minutes without turning it. After that, use tongs to turn the beef to the other side, and brown for an additional 2 minutes..
Remove the browned Fullblood Wagyu beef, and repeat the steps with the rest of the beef (use the rest of the sesame oil when browing the second batch of beef). Once all the beef is browned, add it all back into the cast iron skillet. Mix in the baby bok choy. Reduce the heat to low-medium, and add the sauce to the skillet. Stir to combine, and let the sauce simmer on low heat for about 3 minutes..
FINAL STEPS Whisk together the water and the cornstarch until thoroughly combined. Stir the water and cornstarch mixture into the ingredients in the skillet.Serve the sticky Fullblood Wagyu beef honey-ginger stir fry over rice. Garnish with chopped green onions and toasted sesame seeds.Enjoy!.
For Granma, I Love Cooking for Granma Recipes.